SERVICES
YOUNG LIVING ESSENTIAL OILS Honored to use only Young Living essential olis, produce & training to all my services as it will increase and ad quality to all treatments & services
HALOTHERAPY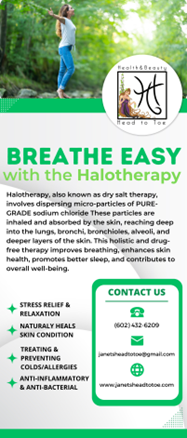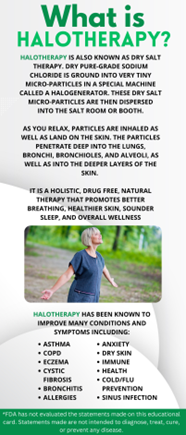 for information on treatments & plans, please go to contact pg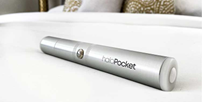 Treatments = 10 deep inhales $20.00 / 3 day Rental $125.00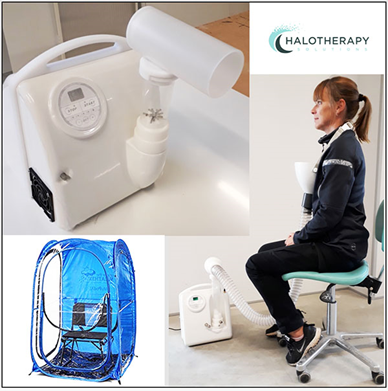 TREATMENT PRICES DEPEND ON YOUR TREATMENT NEEDS $25 & UP
Why is it important?
• Deep Lung Penetration: Smaller particles can penetrate deeper into the lungs, reaching the alveoli. Larger particles tend to deposit in the upper respiratory tract. The deep penetration is essential for reducing inflammation and helping to clear mucus from the lungs, which is particularly beneficial for individuals with chronic respiratory conditions such as asthma or COPD.
• Increased Surface Area: Smaller particles have a greater surface area compared to larger particles of the same mass. This means that there is more salt surface in contact with the airways, which can enhance the anti-inflammatory and antibacterial effects of the salt, and help remove substantially more mucus.
• Improved Mucociliary Clearance: Salt therapy helps to improve mucociliary clearance by attracting water to the airways, which helps to thin mucus. Smaller particles are more effective in achieving this as they can more easily be distributed across the respiratory tract.
DAZZLEDRY
NONTOXIC QUICK DRYING LONG LASTING 7 - 14 DAY NAIL SYSTEM $35.00+
5 Minutes to Worry-Free Nails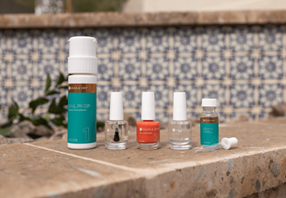 Revolutionary lacquer system that dries worry-free in 5 minutes, lasts 7+ days, is environmentally sound, and promotes healthy nails. Elevate your nail game.
EARSEEDS $35.00 consultations & 1st targeted concern $15 for each additional condition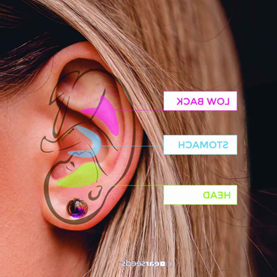 Earseed consultation available
To become a Young Living member sign up at http://janetsheadtotoe.com
and purchase a premium starter kit of your choice.
You can purchase Earseed from https://www.earseeds.com/product-category/swarovski-crystal-ear-pellets/ref/233
Become my Young Living customer and purchase Earseeds from my site
And receive free consultation.You may also take a picture of both ears text me the picture
and I'll guide you where to place your ear seeds and
how to use Young Living essential oils where & why.
Extra special you may send pic of Family & friends too.
MYOBUDDY TREATMENTS -$10.00 for 10 min massage targeted body treatment,30 min celluma light with finishing body polish/buff-$95.00 ( areas to choose -Belly/ thighs / Back / Arms)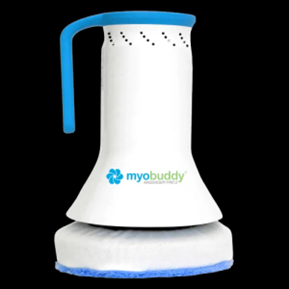 purchase available $249.00 + tx & shipping
CELLUMA LIGHT THERAPY-- $25.00- 35MINS TREATMENT -- $20 FOR 2ND 30MINS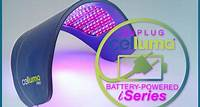 Zero Gravity Profecto X Light therapy $25.00 FOR 10 MINS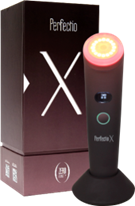 ALL FIRST RESPONDERS IN LEE COUNTY RECEIVE 1 FREE
TREATMENT EVERY MONTH
THANK YOU ALL FOR YOUR SERVICE
Full Body waxing or sugaring
Eye brows, $8.00+ Lip, $8.00
Chin $8.00+ Full face $30.00+ neck $16.00+
Under arm $25.00+ Bikini $45.00+
Full leg $70.00+ Lower leg $45.00+ Arms - $55.00+
Mens back waxing $40.00+

Raindrop Technique $65.00 Raindrop Technique combines essential oils , Vita Flex, and massage to promote balance and harmony

VITAFLEX $45.00 Vitality through the reflexes," It is a specialized form of hand and foot massage, that stimulates all the internal body system

REFLEXOLOGY $45.00 The method of applying pressure to points on the feet (or hands) to stimulate the glands, organs and other areas of the body, helping to normalize body function

All Wraps $65.00 + customizing
CEL-LITE MAGIC BODY WRAP EXCELLENT FOR CELULITE, FIRMING, AND TONING

SENSATION BODY WRAP PROFOUNDLY ROMANTIC & REFRESHING

ORTHO EASE BODY WRAP WARMING FOR TIRED BODIES

ORTHO SPORT BODY WRAP RELIEF FOR ATHLETES AND HARD WORKERS (farming & constructions) OF ALL LEVELS

RELAXATION BODY WRAP PROMOTES RELAXATION AND RESTORES VITALITY TO THE BODY, MIND, AND SPIRIT

Customized 1hr Facial $85.00+ facial massage, facial cleansing,customized scrub, facial steam, customized mask, pore cleansing, cold mask, cotton mitt buffing, finish with moisturizing Cream, Wolfberry Eye Cream
Back Facial $45.00 +
MASSAGE W/ ESSENTIAL OILS, WASH, MASK, STEAM & MOISTURIZER
Micro Dermabrasion $85.00+ Includes 1 profecto X light therapy

Love the skin you're in. Take charge of your health and beauty today with professional skin care.
Body care is a necessity for our health, well being, and youthful appearance. It is not just a luxury to be enjoyed from time to time. Your body is the only one you'll ever get so it's important to make the most of it now!
Hair
Woman's w/ blow dry $18- $30.00
Men $15.00 -$18.00
One process color $65.00+
Foil highlights $70.00+
Two process color $75.00+
Perms $65.00+
Deep Conditioning Treatments $5.00-$25.00+
Nail's
corrective Manicure $25.00+
MEN'S MANI $20.00
Mani & Pedi $60.00+
Corrective pedicure $45.00+
Paraffin wax $5.00 +
Nail art & charms $1.00+
Love the skin you're in. Take charge of your health and beauty today with professional skin care.